B) K-2 SPRAY FORM
(SEMI GEL)



It is used to clean large fabricated equipments of Stainless steel equipments vessels. agitators, dryers, dairy machinery, fermentators, internals as well as the external of pipes by a pressurised spray bottle or pump.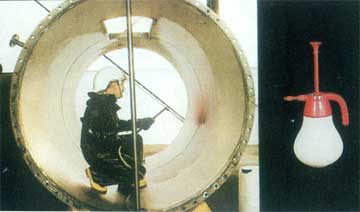 HOW TO APPLY

1. S1-56 - Degreaser (Removal of oil 50gm/lit.) Apply liquid S1-56 - Degreaser on to the
surface for 5 - 1 0 minutes. Then wash the surface thoroughly with water.

2. K-2 spray is to be sprayed on to the Stainless steel surface with a pressurised plastic spray bottle or spray pump.

3. After spraying leave it for 30-60 minutes.

4. Apply K-2 passivation on the surface and leave it for 10 – 15 minutes
5. Wash the surface with high-pressure water system.